Big brother Facebook is here to make sure you have the "right" information about vaccines. A new popup window will appear anytime someone searches for vaccines on Facebook sending them to the US Centers for Disease Control and Prevention for "credible" information. This follows after Twitter and Pinterest made similar moves.
We are going to see this technology used for everything from news, information, and other "fact checking." Reality is whatever Big Tech and Big Government say it is. These tech companies believe that you, the stupid user, are too dumb to do your own research and come to your own conclusions. Meanwhile the Silicon Valley elite aren't vaccinating their own kids.
A new feature is rolling out on Facebook and Instagram to combat the spread of anti-vaccine misinformation.Facebook, which owns Instagram, announced on Wednesday that educational pop-up windows will appear on the social media platforms when a user searches for vaccine-related content, visits vaccine-related Facebook groups and pages, or taps a vaccine-related hashtag on Instagram.

If the user is based in the United States, the pop-up window will connect the user to the US Centers for Disease Control and Prevention for credible information on vaccines. If the user is outside of the United States, it will connect them to the World Health Organization.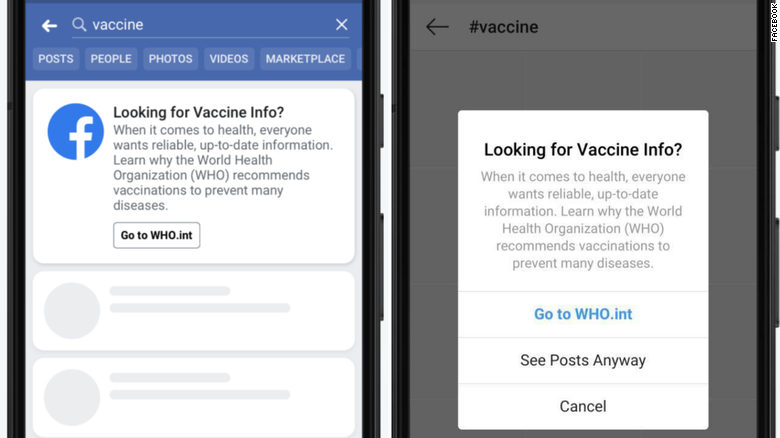 Pop-ups will share vaccine information from CDC and WHO on Facebook and Instagram.The CDC praised Facebook's latest move to stop misinformation from circulating on its platform.
How vaccines stop diseases like measles 01:26″We know that parents often turn to social media to access health information and connect with other parents, and it can be difficult to determine what is accurate and who the credible sources of information are," CDC spokeswoman Kristen Nordlund said in an email on Wednesday.Combating "vaccine myths and misinformation is a shared responsibility and we applaud these efforts," she said in part.This launch comes at the same time a measles outbreak has hit the United States, reaching more than 1,200 confirmed cases across 31 states since the beginning of the year. Outbreaks have also spread around the world, resulting in four European countries losing their measles-free status.Public health experts have pointed to anti-vaccination content online as playing a major role in fewer people getting vaccinated against certain diseases, resulting in outbreaks of measles and other illnesses.


Source